Solid Scientific Research
This page provides an overview of our publications over the past years.
Scientific Excellence Award
Our co-founder and stroke neurologist Jonathan Coutinho received the European Stroke Organization (ESO) Scientific Excellence Award 2023. The award was handed over in person at the ESO Congress in May 2023 for his outstanding achievements and contribution to the ESO and their community of stroke specialists, working towards their common goal to reduce the burden of stroke in Europe.
The ESO Scientific Excellence Award is given to a 'rising star' in stroke research.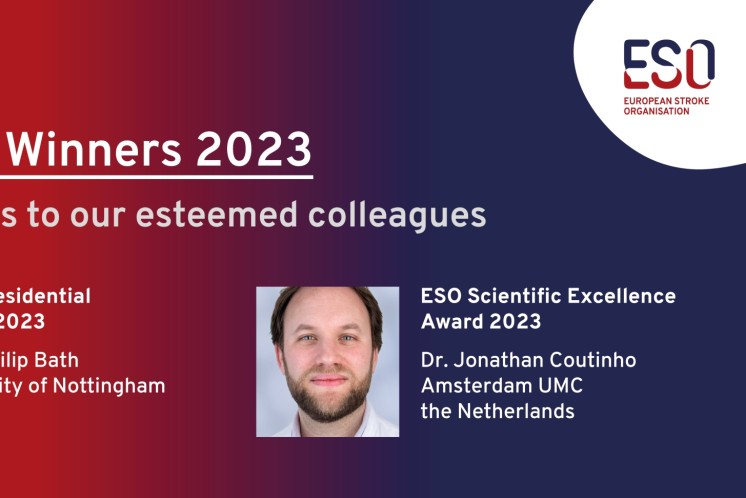 Detection of large vessel occlusion stroke with electroencephalography in the emergency room (2022)
First results of the ELECTRA-STROKE study
Laura CC van Meenen , Maritta N van Stigt , Henk A Marquering, Charles B L M Majoie , Yvo BWEM Roos 1 , Johannes H T M Koelman, Wouter V Potters, Jonathan M Coutinho
The ELECTRA-STROKE study investigates the diagnostic accuracy of dry electrode electroencephalography (EEG) for LVO-a stroke in the prehospital setting. To determine which EEG features are most useful for this purpose and assess EEG data quality, EEG recordings are also performed in the emergency room (ER). Here, we report data of the first 100 patients included in the ER. Patients presented to the ER with a suspected stroke or known LVO-a stroke underwent a single EEG prior to EVT. Diagnostic accuracy for LVO-a stroke of frequency band power, brain symmetry and phase synchronization measures were evaluated by calculating receiver operating characteristic curves. Optimal cut-offs were determined as the highest sensitivity at a specificity of ≥ 80%.
EEG data were of sufficient quality for analysis in 65/100 included patients. Of these, 35/65 (54%) had an acute ischemic stroke, of whom 9/65 (14%) had an LVO-a stroke. Median onset-to-EEG-time was 266 min (IQR 121-655) and median EEG-recording-time was 3 min (IQR 3-5). The EEG feature with the highest diagnostic accuracy for LVO-a stroke was theta-alpha ratio (AUC 0.83; sensitivity 75%; specificity 81%). Combined, weighted phase lag index and relative theta power best identified LVO-a stroke (sensitivity 100%; specificity 84%). We conclude that dry electrode EEG is a promising tool for LVO-a stroke detection, but data quality needs to be improved and validation in the prehospital setting is necessary.
Detection of Large Vessel Occlusion Stroke in the Prehospital Setting (2021)
Electroencephalography as a Potential Triage Instrument
Laura C.C. van Meenen, Maritta N. van Stigt, Arjen Siegers, Martin D. Smeekes, Joffry A.F. van Grondelle, Geertje Geuzebroek, Henk A. Marquering, Charles B.L.M. Majoie, Yvo B.W.E.M. Roos, Johannes H.T.M. Koelman, Wouter V. Potters and Jonathan M. Coutinho
A reliable and fast instrument for prehospital detection of large vessel occlusion (LVO) stroke would be a game-changer in stroke care, because it would enable direct transportation of LVO stroke patients to the nearest comprehensive stroke center for endovascular treatment. This strategy would substantially improve treatment times and thus clinical outcomes of patients. Here, we outline our view on the requirements of an effective prehospital LVO detection method, namely: high diagnostic accuracy; fast application and interpretation; user-friendliness; compactness; and low costs. We argue that existing methods for prehospital LVO detection, including clinical scales, mobile stroke units and transcranial Doppler, do not fulfill all criteria, hindering broad implementation of these methods. Instead, electroencephalography may be suitable for prehospital LVO detection since in-hospital studies have shown that quantification of hypoxia-induced changes in the electroencephalography signal have good diagnostic accuracy for LVO stroke. Although performing electroencephalography measurements in the prehospital setting comes with challenges, solutions for fast and simple application of this method are available. At the time of writing, the feasibility and diagnostic accuracy of electroencephalography in the prehospital setting were being investigated in clinical trials, but we now know that pre-hospital EEG-based detection of LVO is feasible and highly accurate.
TrianecT founders Wouter Potters and Jonathan Coutinho won the Amsterdam Science & Innovation Award (2018)
Previewing in the ambulance how severe the patient with a stroke is, so that they can be immediately transported to the right hospital for the appropriate treatment. That innovative idea by Jonathan Coutinho (neurologist, Amsterdam UMC) and Wouter Potters (technical physician, Amsterdam UMC) has won the Amsterdam Science & Innovation Award 2018. They devised a mobile scanner for the ambulance that measures brain waves. The Amsterdam Science & Innovation Award 2018 honors the most innovative idea with a clear societal or commercial application.
Jury chair Barbara Baarsma: "A scientifically unique and creative idea, but at the same time of great societal value with significant opportunities for valorization that are also being developed. Also economically relevant in a broad sense, as limiting brain damage saves costs."